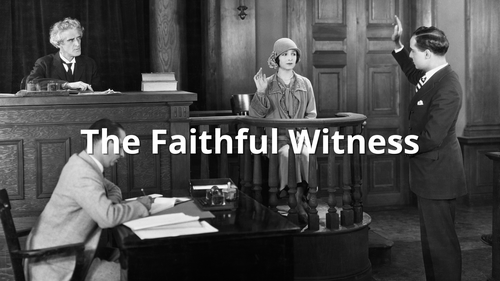 In Revelation 1:5 John the Apostle describes Jesus as the "Faithful Witness". A witness is someone who can attest to the truth, to confirm it by giving account of what he saw. If Jesus and Father God can agree that faith was present in a person, well that is going to result in an outpouring of Gods power into that person's life!

Father God is looking for faith from heaven...

For the eyes of the Lord run to and fro throughout the whole earth, to show Himself strong on behalf of those whose heart is loyal to Him. 2 Chronicles 16:9

Now look at Mathew 15:21-28. This is the account of the Canaanite woman who's daughter was demon possessed. No really, read it before we go on...

Now we can see that she had faith, great faith in fact, and that she received what she needed from God. Father God, from heaven saw this faith and sent Jesus (remember His ministry as described in Acts 10:38) to be a witness of her faith. Jesus confirmed her faith by testing her with words that gave her the opportunity to be offended at God or to feel sorry for herself but she chose instead to press in and not give up while remaining humble before God. Jesus said "O woman, great is your faith!" That was the "Faithful Witness" testifying before Father God! With Jesus and Father in agreement, power was released that set the womans daughter free!

For us, it is much the same, Jesus Spirit, the Holy Spirit, is sent to help us get our faith where it needs to be so that Jesus Christ the Righteous can be our Advocate before the Father and His power can go to work on our behalf.

The real good news here is that Father God, the Holy Spirit and Jesus are all working together for us because they love us and want us to win.

Remember in God's kingdom, faith is the driving force and love is the power source!

Live well.